2018 Forest River Rockwood Signature Ultra Lite 8301WS (Bunkhouse) Fifth Wheel
Water Capacity:
41-50 Gallons
Levelling Jacks:
Included
Please Call for Our Price
406-656-1122
Vehicle Description
---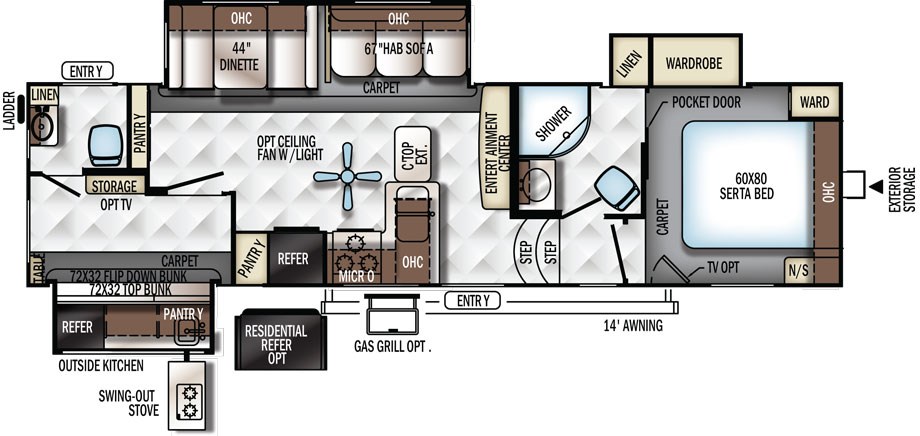 ---
GVWR:

11422

Dry Weight:

9365

Max Cargo Capacity:

1642
---
Click on photo for a Factory Brochure
---
Rockwood Factory Tour
---
Rockwood Reese Revolution Wedge Installation
---
ROCKWOOD SIGNATURE ULTRA LITE TRAVEL TRAILERS AND FIFTH WHEELS
One thing Rockwood has learned with 40 years of experience is to always continue to improve. As a result, they continue to provide you with the innovative floor plans, features, and options that make choosing a Rockwood Signature Ultra Lite Travel Trailer or Fifth Wheel easier than ever before.The Rockwood Signature Ultra Lite is the ultimate luxury product in the light weight trailer market. Offering more floor plans, features and options than any other in its class.
---
FEATURES AND OPTIONS
INTERIOR FEATURES
Driftwood Interior
Decorative Slide Out Fascia
Decorative Chair Rail Trim in Slide Outs
Decrotive Cove Trim Along Ceiling and Overhead Cabinets
Screwed and Glued Cabinetry
Solid Wood and Raised Panel Doors and Drawers
Upgraded Cabinetry Hardware
Engineered Mold and Mildew Resistant Floor Covering
Bedroom Carpet (Opt. on TT; Std. on FW)
Floor Ducted Furnace
Fireplace (Std. 8325SS) (Required 8328BS, 8324BS, 8298WS, 8301WS, 8335BSS, 8280WS) (Opt. 8288WSA, 8289WS, 8299BS, 8329SS)
Carbon Monoxide Detector
12 Volt Power Plug With USB Charging Port
Battery Disconnect Switch
55 Amp Converter With Charger
LED 12 Volt Interior Lighting
Flush Mount Ceiling LED 12 Volt Interior Lighting w/ Multiple Switches
Interior Floor Light by Entrance Door
Directional Reading LED Lights on Most Sofa Slides
Residential Dome Style LED Lights Over Sofa and Table
Upgraded Recessed LED Lighting Around Medicine Cabinet
Digital AM/FM/DVD w/ "Bluetooth" Technology
2nd Digital AM/FM/DVD (8311WS, 8312SS, Only)
MP3 Player Hook-Up
LCD TV Mounted in Bedroom With Outside Mounting Bracket (Std. on TT Models w/ Center Entertainment Only; Opt. Other Floorplans)
LCD TV Mounted in Bunk Room (Std. 8311WS)
Jack Knife Sofa (Std. 8326BHS 2nd Sofa, 8244BS, 8295WS)
Deluxe Tri-Fold Sleeper Sofa w/ Storage (N/A w/: 8244BS) (Opt. 8311WS, 8312SS, 8326BHS 2nd Sofa)
Push Back Recliner (Select Models)
Theater Seating: Available ILO Standard Recliner (Std: 8298WS, 8335BSS) (Opt. 8325SS, 8328BS, 8288WSA Only) (ILO 67" HAB Sofa Only All Models Except 8329SS, 8288WSA, 8289WS, 8299BS )(ILO Chaise Sofa
Day/Night Shades
Deluxe Interior Window Treatment
44" Family Style Dinette (N/A 8327SS, 8328BS, 8329SS, 8289WS, 8295WS, 8298WS, 8299BS)
Free Standing High Pressure Laminated Table With Swing Level Leg
Free Standing Table and Chairs (Std. 8328BS, 8329SS, 8289WS, 8295WS, 8298WS, 8299BS)
Large Auto Gas/Electric Refrigerator
12 Cubic Foot Auto Gas/Electric Refrigerator W/ Stainless Steel Panels (8299BS Only)
Three Burner High Output Gas Range with Glass Top Cover
Water-Pur Filtration System
Counter Top Extension (N/A 8335BSS, 8327SS, 8329SS, 8288WSA, 8289WS, 8298WS, 8299BS)
Trash Can in Kitchen (Most Models)
Tub Surround
Radius Glass Door Shower (N/A 8312SS)
Bathroom Skylight
Interior Gas and Electric Switches
Water Heater By-Pass Kit
Residential Style Porcelain Bowl Foot Flush Toilet
Maxxair® Ventilation Fan and Vent Cover
Maxxair® Ventilation Fan w/ Power Lid and Vent Cover (FW Only)
King Bed Slide (8335BSS Only)
EXTERIOR FEATURES
Fully Aluminum Frame (Floor, Sidewall, & Roof)
Insulation Factors R-7 Side Wall, R-12 Floor and R-14 Roof
Radius Roof With Vaulted 83" Interior Ceilings
Livingroom Slide Out 73" Height For Easier Access to Seating Area
One Piece Seamless Roofing Membrane
TV Antenna w/ Cable & Satellite Hook-Up
Laminated Fiberglass Sidewalls With High Gloss Finish
Electric Slide-Out(s)
Decorative Frame Skirting
Distinctive Black Exterior Trim
Power Awning With Adjustable Rain Dump and LED Lighting
30" Primary Entrance Door (Most Models)
Friction Hinge Entrance Door
Lighted Entry Step
Large Grab Handles
Tinted Bonded Frameless Windows
Vista Slide Windows w/ Free Standing Table and Chairs (Select Models)
Outside Grill Prep w/ LP Hookup and Backer
Outside Shower
Front Outside "Trunk" Storage Separated From Heated Pass Thru Storage Compartment (FW Only)
Outside Antifreeze Inlet for Convenient Winterizing
Slam Latches on Most Exterior Storage Doors
Slam Latch on Both Side Pass Thru Storage Doors & Front Compartment Door (FW Only)
Slam Latch on Pass Thru Storage Doors (TT Models w/ Front Bedrooms Only)
Magnetic Storage Door Latches
Two 30 lb Gas Bottles
Molded Bottle Cover (TT Only)
Enclosed Gas Bottles w/ Storage Door Access (FW Only)
Surface Coated Steel I-Beam Frame
Power Front Jack (Opt. TT; Std. FW)
Easy Lube Axles
15" Tires With Triple Step
STANDARD PACKAGE A (FW ONLY)
Molded, Wrap-around Front Cap
Fiberglass Exterior w/ High Gloss Finish
Aluminum Bed and Dinette Base
6 Sided Aluminum Cage Construction
Vacuum Laminated 1 Piece Roof and Walls
Tinted Bonded Frameless Windows
Power Awning w/ Adjustable Rain Dump and LED Light Strip
Enclosed Underbelly
Reese Revolution Pin Box Hitch
Power Landing Legs & Stabilizer Jacks
13,500 BTU Ducted A/C
Upgraded 22" Gas Oven (18" Oven 8244BS)
Microwave Oven
Recessed Cooktop and Oven w/ Flush Mount Cover
Hidden Hinge Cabinet Doors
Residential Full Extension Metal Soft Close Drawer Guides
Extra Large Double Door 2 Way Refrigerator
Solid Surface Corian Kitchen Countertops
Real Tile Backsplash
Flush Mount Stainless Steel Sinks With "High Rise" Lift-Off
6 Gallon Quick Recovery Auto Ignition Gas/Electric Water Heater
Residential Serta Mattress Upgrade
Outside Speakers
LCD TV With 5.1 Digital Dolby Surround Sound Speaker System and Multi-directional Antenna
Multi Zone Stereo w/ DVD/CD/AM/FM and Bluetooth Control
Touch Button Control Panel w/ App Control
Thermostatically Controlled Heated Holding Tanks
Torsion Axle, Rubber-Ryde Suspension
Polished Alloy Wheels
Spare Tire Carrier & Cover
Nitro Filled Tires
Slam Latch Baggage Doors and Magnetic Door Holds
Rear Observation Camera Prep w/ Molded Mounting Plate
Solar Panel Prep
Rear Ladder
Black Tank Flush
STANDARD PACKAGE B (TT ONLY)
Automotive Windshield (Pkg. B only) (N/A 8310SS)
Fiberglass Exterior w/ High Gloss Finish
Aluminum Bed and Dinette Base
6 Sided Aluminum Cage Construction
Vacuum Laminated 1 Piece Roof and Walls
Tinted Bonded Frameless Windows
Power Awning w/ Adjustable Rain Dump and LED Light Strip
Enclosed Underbelly
4 Frame Mounted Stabilizer Jacks
13,500 BTU Ducted A/C
Upgraded 22" Gas Oven
Microwave Oven
Recessed Cooktop and Oven w/ Flush Mount Cover
Hidden Hinge Cabinet Doors
Residential Full Extension Metal Soft Close Drawer Guides
Extra Large Double Door 2 Way Refrigerator
Solid Surface Corian Kitchen Countertops
Real Tile Backsplash
Flush Mount Stainless Steel Sinks With "High Rise" Lift-Off
6 Gallon Quick Recovery Auto Ignition Gas/Electric Water Heater
Residential Serta Mattress Upgrade
Outside Speakers
LCD TV With 5.1 Digital Dolby Surround Sound Speaker System and Multi-directional Antenna
Multi Zone Stereo w/ DVD/CD/AM/FM and Bluetooth Control
Touch Button Control Panel w/ App Control
Thermostatically Controlled Heated Holding Tanks
Torsion Axle, Rubber-Ryde Suspension
Polished Alloy Wheels
Spare Tire Carrier & Cover
Nitro Filled Tires
Slam Latch Baggage Doors and Magnetic Door Holds
Rear Observation Camera Prep w/ Molded Mounting Plate
Solar Panel Prep
Rear Ladder
Black Tank Flush
OPTIONS
Maple (w/ Solid Maple Glaze Finished Cabinet Doors) Interior
Bedroom Carpet (Opt. on TT; Std. on FW)
15,000 BTU Ducted Roof Air
2nd Roof A/C w/ Chill Chaser Heat Strip in Bedroom and 50 Amp Service and Digital Dual Thermostat
Fireplace (Std. 8325SS) (Required 8328BS, 8324BS, 8298WS, 8301WS, 8335BSS, 8280WS) (Opt. 8288WSA, 8289WS, 8299BS, 8329SS)
110V Ceiling Fan (FW Only)
CSA
Tablet Control Panel
LCD TV Mounted in Bedroom With Outside Mounting Bracket (Std. on TT Models w/ Center Entertainment Only; Opt. Other Floorplans)
LCD TV Mounted in Bunk Room (Std. 8311WS)
Deluxe Tri-Fold Sleeper Sofa w/ Storage (N/A w/: 8244BS) (Opt. 8311WS, 8312SS, 8326BHS 2nd Sofa)
Swivel Rocker Chair (Opt. 8244BS ILO Sofa)
La-Z-Boy Swivel Recliner Option: Available ILO All Units With Standard Pushback Recliner
La-Z-Boy Swivel Recliner Option: ILO Theater Seating (8328BS only)
Theater Seating: Available ILO Standard Recliner (Std: 8298WS, 8335BSS) (Opt. 8325SS, 8328BS, 8288WSA Only) (ILO 67" HAB Sofa Only All Models Except 8329SS, 8288WSA, 8289WS, 8299BS )(ILO Chaise Sofa
48" X 84" Spacious King-U-Style Dinette (N/A 8325SS, 8327SS, 8329SS, 8324BS, 8244BS, 8288WSA, 8289WS, 8295WS, 8298WS, 8299BS )
Free Standing Table and Chairs (Std. 8328BS, 8329SS, 8289WS, 8295WS, 8298WS, 8299BS)
Stainless Steel Appliances
Raised Refrigerator Panels (N/A 8299BS)
Residential Refrigerator w/ Invertor (8335BSS, 8301WS, 8298WS )
Extra Maxxair® Ventilation and Vent Cover
Bike Rack Ladder Attachment
Rear Bike Deck (350 lbs. Max Load) (8299BS Only)
Laminated Champagne Color Fiberglass Sidewalls With High Gloss Finish and Color Keyed Roof
Shielded Awning Covers
Awning Slide Topper
Sliding Glass Padio Door (8335BSS Only)
Thermo Pane Window Upgrade
Vista Slide Windows w/ Free Standing Table and Chairs (select Models)
Outside Gas Grill and Worktable
Power Front Jack (Opt. TT; Std. FW)
4.0 Leveling Jacks
Additional Photos
click on a thumbnail to view full-size photos
Contact Information
I90 Motors & RV —
Main Phone:
(406) 656-1122
Vehicle Features & Options
Dealership Information
I90 Motors & RV
Main Phone:
(406) 656-1122
Email:
Business Hours
Weekdays:

9:00 AM to 6:00 PM

Sat:
9:00 AM to 5:00 PM
Sun:
Closed
Location
8810 Sundance Dr
Billings, MT 59101-6221